With the massive increase of customers shopping online, web developers, entrepreneurs and technology strategists have come up with a lot of innovative ways to benefit the shopper and the merchant.
The online world is constantly growing at a rapid pace, merchants are often seeking innovative ways to increase their ecommerce conversion rate. Right now it's very common for the shopper to browse your store online, add items to the shopping cart but don't actually proceed to checkout to purchase. There are a number of reasons why people don't end up proceeding through the checkout, these include Expensive shipping and difficult checkout processes but the main reason is purchase amount.
If you can reduce the initial purchase amount sales conversions will increase.

This issue can be resolved with the help from hoolah. The latest Buy now pay later payment option for Singapore merchants. hoolah, founded by experienced payment industry specialists set out with the goal to make the online transaction process as smooth as possible.
Hoolah solves the problem by enabling customers to stay under their budget with a buy now pay later payment option ( 4 easy interest-free payments) this has a proven to be a massive sales conversion increase for merchants.
Hoolah has only recently launched and has already onboarded a collection of major Singapore stores on the WooCommerce and Shopify platforms. Right now, it exclusive for Singapore merchants but we expect big things from hoolah with Shopify!
Shopify is arguably the fastest growing ecommerce platform globally with thousands of merchants either  migrating or starting a new store with it. As a Shopify Partner and Shopify Expert we love working on the platform and very excited to see its coverage grow across Singapore and Asia.
Interested in Shopify
The benefits of the hoolah is available for both, shoppers and merchants:-
Up to 75% of ecommerce consumers look, add items to the shopping cart but don't buy. hoolah helps solve this problem for merchants by allowing consumers to increase their personal affordability with a buy now and pay later payment option enabling interest free repayment in 4 equal instalments. Also, you receive payment as soon as the first instalment has been paid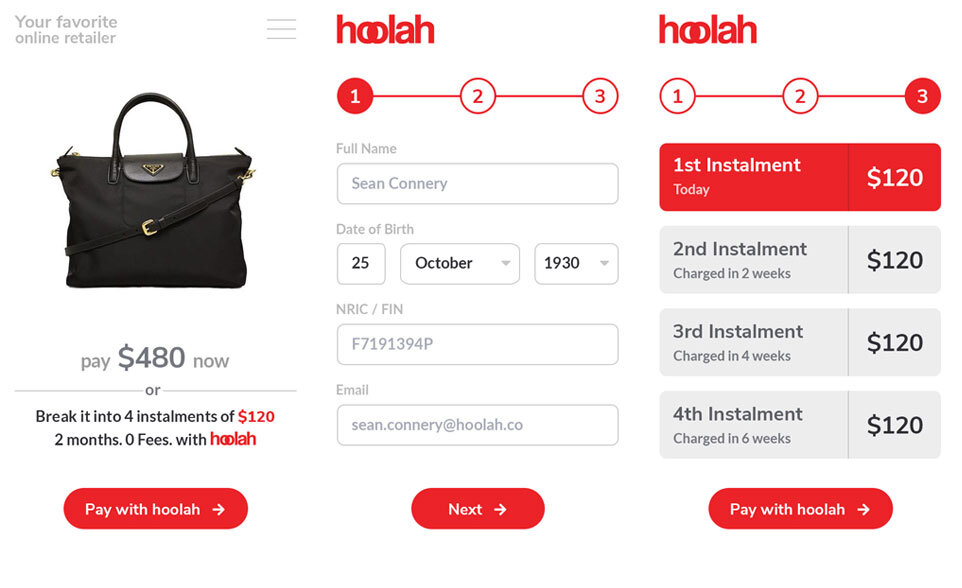 How does hoolah benefit a merchant?
Increased Sales
hoolah encourages the customers to complete their sales transaction. Buying Now and Paying Later is one of the biggest incentive a merchant can give to their customers. Upwards of 20% development in transformation rates and a more prominent probability to include more things as purchasers have upgraded affordability.
Loyal Customers


The customers will come back to the site to pay the amount the way they want to pay. The merchants should provide the right platform without affecting their brand image through heavy discounting.
Efficient Working Capital


The benefits of the hoolah will make a faster turnover of inventory. To make sure that you are capable to reinvest in your business, the funds will be settled for you.
How does hoolah benefit a shopper?
0% Interest


Yes! This may sound amusing to you but Hoolah comes with zero costs for you! No catches, no strings attached.
No Credit Card, No Problem


This is the biggest benefit for the shoppers as the hoolah works with any card, regardless of the bank or card type (debit and credit accepted).
Simple Checkout


There are no credit checks, forms to fill in or waiting time required. They just have to choose the hoolah at checkout to buy now and pay later!
Increase average order value


The primary benefit of such services is that they have the potential to substantially increase the sales revenue. As has been the situation since the coming of web-based business, the more checkout choices are accessible to the client, the better your web change rates will be. Magnifying on this straightforward reason is a reason why Buy Now Pay later installment alternatives with a smaller initial purchase amount is so attractive for shoppers
Aussies are already used to using Buy Now Pay Later with the majority of highly prestigious players in retail markets of Australia using afterpay and zippay.

The number of merchants using these payment methods  is increasing on a daily basis. 2017 was expected to be a revolutionary year for these platforms and it took Australia by storm, it's now December 2018 and you will be hard pressed to find an online store that doesn't have afterpay. Wow!
Shopify is arguably the fastest growing ecommerce platform globally with thousands of merchants either migrating across or starting a new store and see hoolah together with Shopify really start to dominate the local Singapore market – then start expanding across Asia.

Alinga are a Shopify Partners, Shopify Experts and love working on the platform.
Get started with Shopify      |   Get started with hoolah