Re-platform to Shopify with Alinga. Your trusted eCommerce Partner.

SHOPIFY EXPERTS ★★★★★ 50 REVIEWS

Alinga is your trusted partner for migrating your eCommerce website to Shopify.

Alinga is your trusted partner for migrating your e-commerce website to Shopify. Our team of experts has successfully completed migrations to Shopify and Shopify Plus. We understand that website migration can be a daunting task, which is why we strive to make the process as smooth and stress-free as possible.

Our team has refined the Shopify migration, ensuring that you experience a fast, seamless, and hassle-free migration. We take care of every aspect of the migration, from analysing your current platform to launching your new Shopify store, so you can focus on running your business.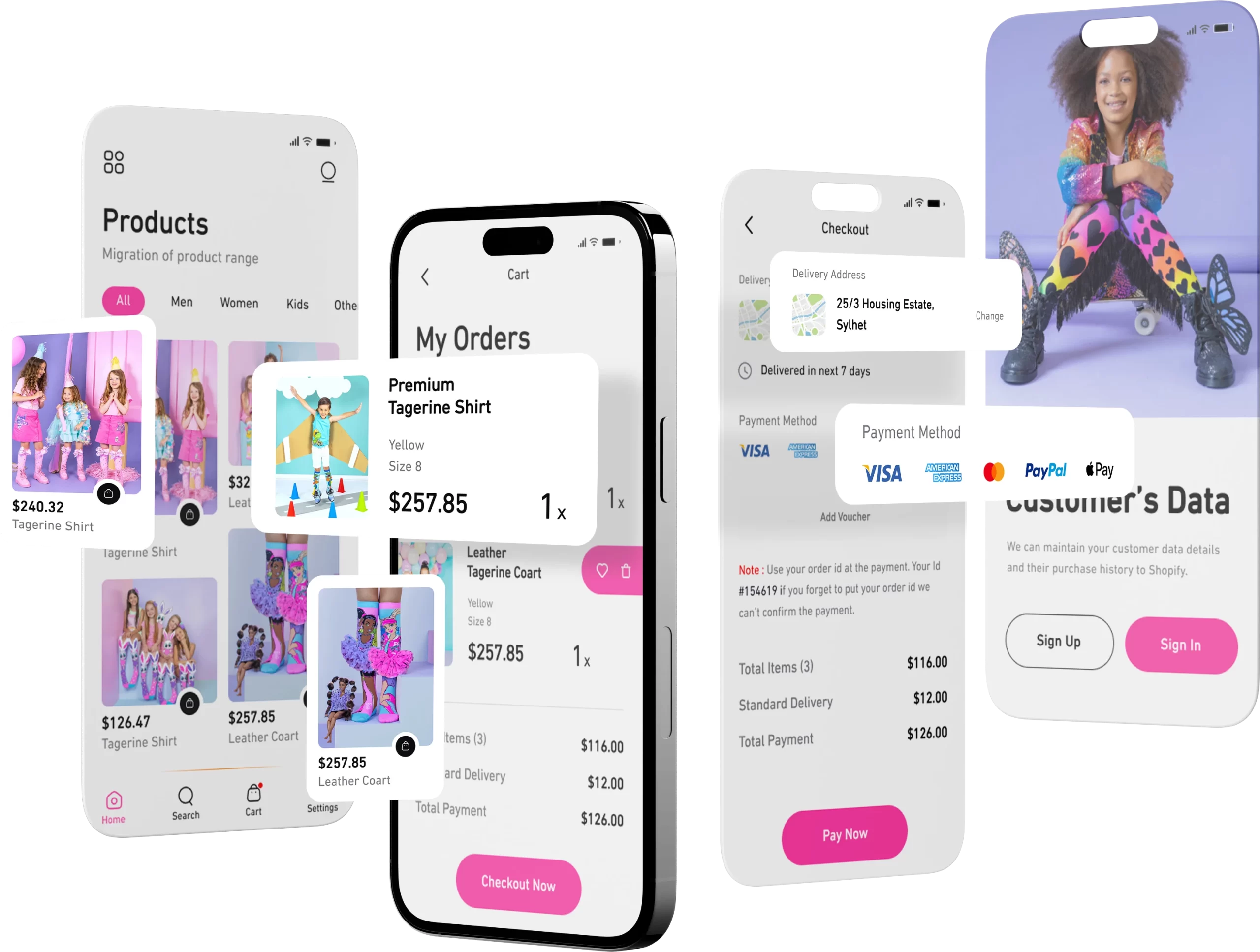 Shopify Website Migration Specialists

Alinga is a team of e-commerce website migration specialists. We provide a seamless and stress-free experience for businesses looking to migrate their e-commerce website from one platform to another. Our team has years of experience in website design, development, and migration. We understand the complexities and challenges that come with website migration, which is why we provide end-to-end solutions that are tailored to meet the unique needs of each client.

Our Shopify Migration Process
We offer a wide range of services to ensure that your e-commerce website migration is successful.
Platform Analysis and Consultation
Our team will analyse your current e-commerce platform and provide recommendations on the best platform to migrate to. We take into account factors such as your data, customer and technical requirements.
Design and Development
We design and
develop your new e-commerce website
to ensure that it meets your business needs and requirements. We ensure that your new website is fast, scalable, mobile friendly and optimised for search engines.
Data Migration
We migrate all of your existing data, including product information, customer data, and order history, to your new Shopify store. We ensure that your data is transferred securely and accurately.
Testing and Quality Assurance
We perform thorough testing and quality assurance to ensure that your new e-commerce website is functioning properly and meets your business requirements. We perform testing on multiple devices and platforms to ensure that your website is compatible with all devices.
Launch and Post-Launch Support
We help you launch your new e-commerce website and provide post-launch support to ensure that everything is running smoothly. We provide training on how to use the new platform and offer ongoing support to ensure that your website is always up-to-date and secure.
Migrate from
onto Shopify
With an specialist agency with proven success

We offer a comprehensive range of services to ensure seamless migration of your e-commerce store from platforms such as
Magento
, Neto, OpenCart, Maropost,
WooCommerce
, and others to Shopify and Shopify Plus. Our team of experts will work with you every step of the way to ensure that your migration is a success, allowing you to focus on what matters most - growing your business.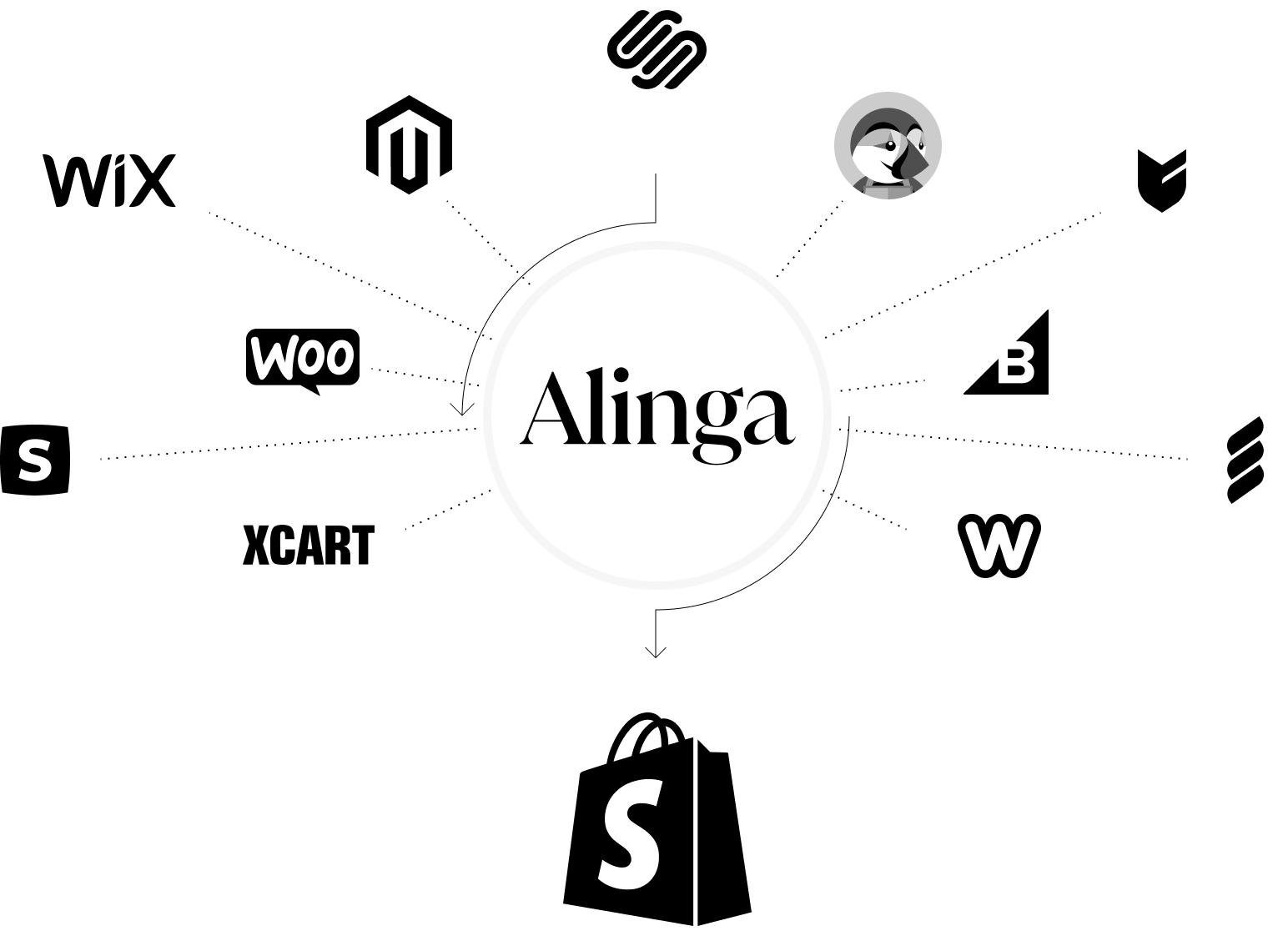 ALINGA - SHOPIFY MIGRATION EXPERTS
What data can you migrate over?
Products

Product title, description, pricing, tax, inventory, product images and custom data.

Products Categories

Category name, description, images, status, meta title, meta descriptions.

Customer Data

We can maintain your customer data details and their purchase history to Shopify.

Customer Orders

We make it a seamless experience for you and your customers by migrating all order information for historical information.

Product Attributes

Product features, specifications, structured data. We can
even convert custom attribute data to Shopify tags and metafields.
Product Variants

Product variants like colour, size and style. These can be mapped or dynamically created.

301 Redirects

We index your current site, generate a detailed database of your URL links and prepare custom 301 URL redirects to ensure your current rank on search engines is retained.

Metadata
Custom Product, Collection and Page SEO metadata will also be migrated across to Shopify.

Blog posts

Blog title, description, media files, SEO URLs.

Content Pages

Stand-alone pages like About Us, Contact Us, Shipping policy page and so on.

Reviews
Existing product reviews can be exported and connected to your new store - existing review platforms like Yotpo, Stamped and Okendo can also be maintained.
Discount Codes

We can bring over existing coupon codes and have them
setup on Shopify.
"Adrian and the Alinga team were amazing to work with. The team was extremely responsive and provided a website I'm extremely happy with. Very happy that I've found Alinga and would highly recommend them to anyone looking to build a great website."
Nina - Phorus
Shopify Beauty store
"Finding a service provider, of any kind, is always a leap of faith. Especially when you can't afford to 'get it wrong'. As luck would have it, I found Alinga. They exceeded my expectations. They were able to nail my brief, within budget and on time."
TeaEsk
Shopify theme development
"I could not recommend any other web developer than Alinga. Adrian and his team have made our complex web development requests seem so easy and have been executed with great precision and professionalism. The amazing communication has given us the opportunity to refine and fine tune to ensure we get what we need at all times."
Tony Pope
Veneta Blinds - Support & Success
"Adrian and his team are excellent to deal with they made the transition from Magento Shopify easy and painless could not recommend them enough."


Garreth Angel
Magento > Shopify migration
"Alinga went above and beyond to help us get our eCommence site up and running. The team is very supportive throughout the process and as a result, we are very pleased with our website."

Chantelle
Shopify Fashion Store
"We had a complex website design completed and we needed someone with deep Shopify experience to build it out. Whenever we had feedback they maintained a can-do attitude and got it done. We now work with Adrian and the team on a monthly retainer and we are very impressed with the value they continue to add. Thanks Adrian and team"
"Adrian and his team made the process simple from start to finish and delivered a great website on time and within budget. Communication with all team members was easy and we found that they responded in a very timely manner to any questions or changes needed by us."
Bridget Mitchell
Shopify Support & Success
Frequently Asked Questions
What platforms do you support?
We support a wide range of e-commerce platforms, including Shopify, Magento, WooCommerce, Neto, and more. We can also migrate your website from a custom-built platform to a new platform.

How long does the migration process take?
The migration process can vary depending on the complexity of your website and the amount of data that needs to be migrated. However, we typically complete website migrations within 6-8 weeks.

Will there be any downtime during the migration process?
We strive to minimise downtime during the migration process. We typically perform the migration during off-peak hours to minimise any disruption to your business.

Can you migrate our Magento Store to Shopify?
Absolutely, Alinga is well-equipped to migrate your Magento Store to Shopify, ensuring a smooth transition. Our skilled professionals have an in-depth understanding of both platforms, allowing us to efficiently transfer your store's data, design, and functionalities while minimizing any disruption to your business operations. Trust in our expertise to guide your Magento to Shopify migration with confidence.
Will my SEO be affected by the migration?
We take SEO into account when migrating your website. We ensure that your new website is optimised for search engines and that all of your existing SEO data is transferred to the new platform.

Do you provide ongoing support?
Yes, we offer ongoing support to ensure that your website is always up-to-date and secure. We provide training on how to use the new platform and offer technical support if any issues arise.

Can you migrate our Maropost Store to Shopify?
Yes, Alinga has the expertise to seamlessly migrate your Maropost Store to Shopify. Our experienced team not only understands the technical complexity of the migration process but also prioritises maintaining the integrity of your data and ensuring a flawless transition. With a successful track record in e-commerce solutions, we are poised to make your Maropost to Shopify migration a success.
Can you migrate our WooCommerce Store to Shopify?
Certainly, Alinga is proficient in migrating WooCommerce Stores to Shopify, offering a streamlined process for enhanced results. Leveraging our extensive knowledge of both platforms, we navigate the migration complexity, ensuring a secure and efficient transfer of your online store. As demonstrated by our portfolio and client testimonials, we are committed to delivering a seamless WooCommerce to Shopify migration experience that drives growth and success.
Say hello and let's work together.
We would love to hear about your new project.