Your E-commerce Agency for Seamless ERP Integration with Shopify

SHOPIFY EXPERTS ★★★★★ 50 REVIEWS

Alinga is your trusted partner for migrating your eCommerce website to Shopify.

Alinga is an e-commerce agency specialising in seamless ERP integration services for Shopify. Our experts connect Shopify with powerful ERP systems, revolutionising the way you manage your online business. We automate and synchronise key operations, saving you time and effort. Our integration ensures a seamless connection, eliminating duplicates and maintaining accurate inventory levels across multiple channels.
At Alinga, we provide customised solutions tailored to your
business requirements
. We empower you to effortlessly scale your operations and achieve your goals. With our comprehensive analytics tools, you can gain enhanced visibility and reporting capabilities. Monitor sales, track inventory, analyse customer behaviour, and make data-driven decisions from a single dashboard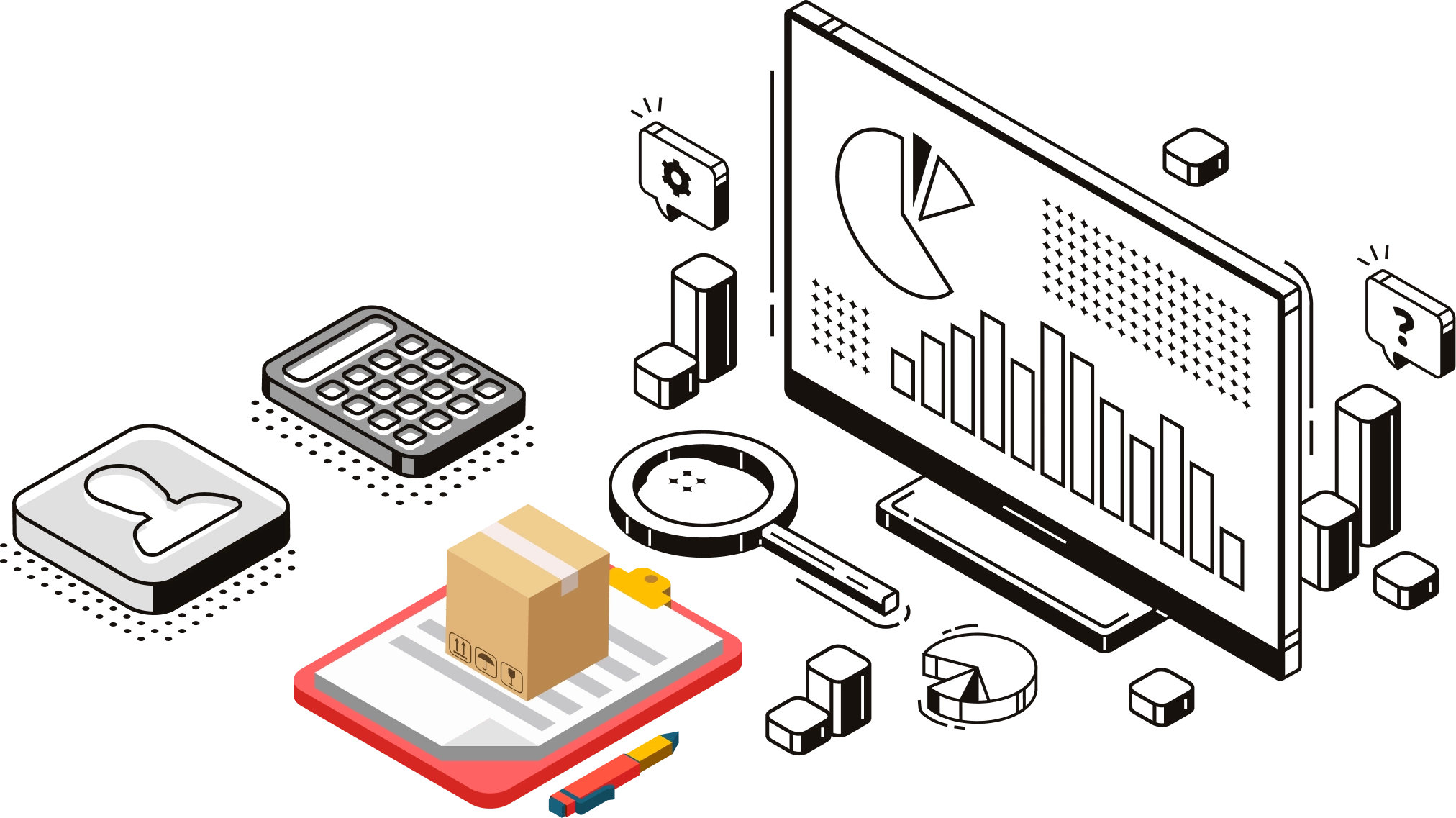 Shopify Seamless ERP Integration Services

Unlock the true potential of your
Shopify
store with Alinga, the leading
e-commerce agency
specialising in ERP integration services. We connect Shopify with powerful
ERP systems
, revolutionising the way you manage your online business. Our tailored ERP integration services empower your Shopify store by streamlining business processes and driving unprecedented growth. Efficiently manage inventory, orders, and customer data to run a successful e-commerce operation with Alinga
Unleash the Power of Automation
Our developers have a deep understanding of both Shopify and ERP systems. We leverage this expertise to automate and synchronise key business operations, reducing manual effort and freeing up your time to focus on what matters most—growing your business.
Seamlessly Connect Your Shopify Store
Alinga's ERP integration services ensure a seamless connection between Shopify and your ERP system, allowing you to consolidate data, eliminate duplicate entries, and maintain accurate inventory levels across multiple channels.
Customised Solutions for Your Business
We know that no two businesses are the same. That's why our team takes a personalised approach to every integration project. We analyse your specific requirements, business processes, and goals to design a tailor-made solution that meets your unique needs, empowering you to scale your operations.
Enhanced Visibility and Reporting
Alinga's ERP integration allows you to monitor sales, track inventory, analyse customer behaviour, and generate insightful reports—all from a single unified dashboard. Stay ahead of the competition and make data-driven decisions for sustainable growth.
Reliable Support and Maintenance
Alinga offers ongoing support and maintenance to ensure your Shopify-ERP integration continues to perform at its best. Our dedicated team is always ready to assist you, providing timely resolutions to any queries or issues that may arise.
Cutting-Edge Technology Expertise
Our team constantly keeps up with the latest trends, tools, and innovations to ensure that your Shopify-ERP integration is built using the most cutting-edge technology available. Our integration will be future-proof and equipped to handle the evolving needs of your business, giving you a competitive edge in the market."
Connect your
onto Shopify
With a specialist agency with proven success

We offer a comprehensive range of services to ensure seamless migration of your e-commerce store from platforms such as
Magento
, Neto, OpenCart,
WooCommerce
, and others to Shopify and Shopify Plus. Our team of experts will work with you every step of the way to ensure that your migration is a success, allowing you to focus on what matters most - growing your business.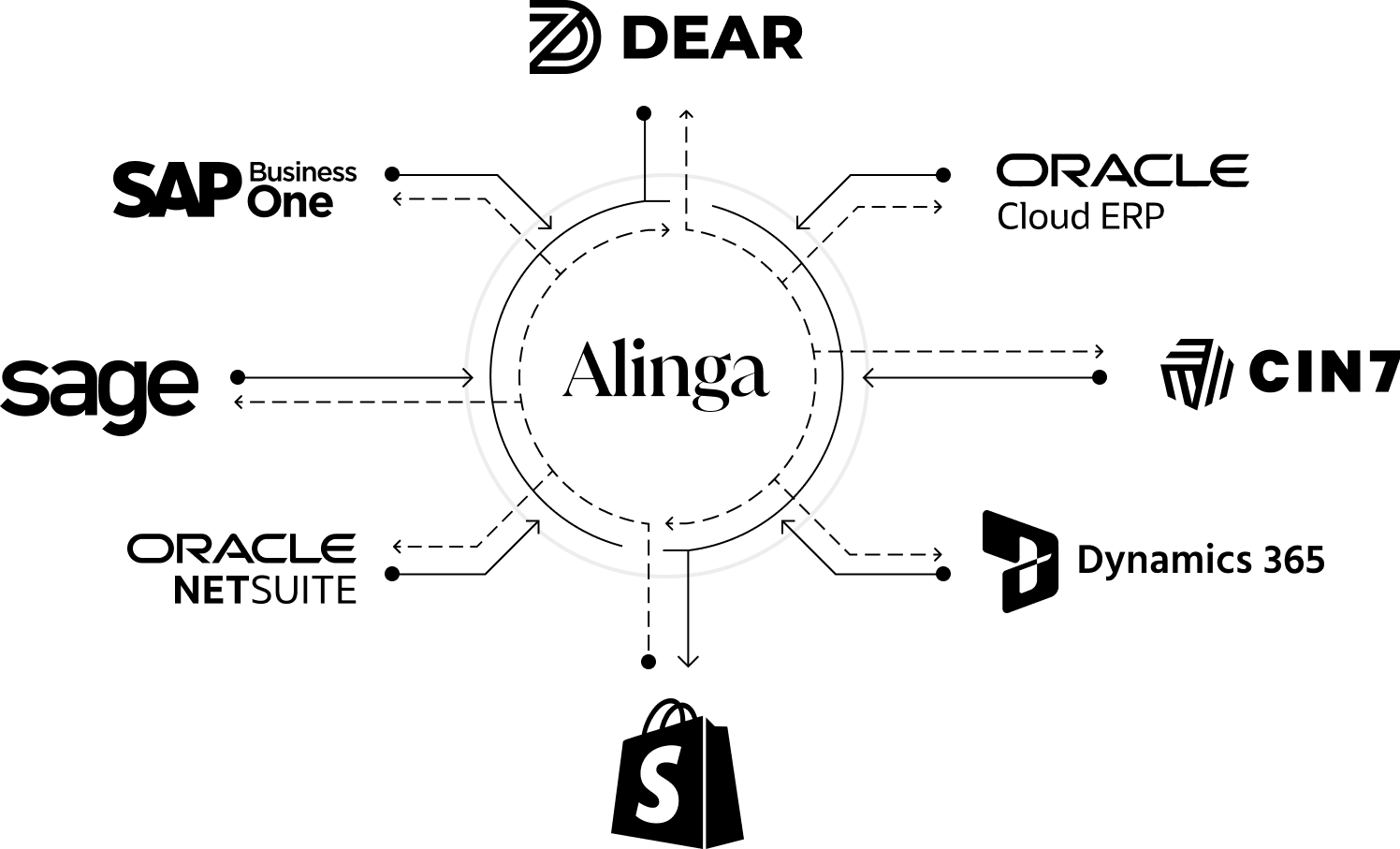 "Adrian and the Alinga team were amazing to work with. The team was extremely responsive and provided a website I'm extremely happy with. Very happy that I've found Alinga and would highly recommend them to anyone looking to build a great website."
Nina - Phorus
Shopify Beauty store
"Finding a service provider, of any kind, is always a leap of faith. Especially when you can't afford to 'get it wrong'. As luck would have it, I found Alinga. They exceeded my expectations. They were able to nail my brief, within budget and on time."
TeaEsk
Shopify theme development
"I could not recommend any other web developer than Alinga. Adrian and his team have made our complex web development requests seem so easy and have been executed with great precision and professionalism. The amazing communication has given us the opportunity to refine and fine tune to ensure we get what we need at all times."
Tony Pope
Veneta Blinds - Support & Success
"Adrian and his team are excellent to deal with they made the transition from Magento Shopify easy and painless could not recommend them enough."


Garreth Angel
Magento > Shopify migration
"Alinga went above and beyond to help us get our eCommence site up and running. The team is very supportive throughout the process and as a result, we are very pleased with our website."

Chantelle
Shopify Fashion Store
"We had a complex website design completed and we needed someone with deep Shopify experience to build it out. Whenever we had feedback they maintained a can-do attitude and got it done. We now work with Adrian and the team on a monthly retainer and we are very impressed with the value they continue to add. Thanks Adrian and team"
"Adrian and his team made the process simple from start to finish and delivered a great website on time and within budget. Communication with all team members was easy and we found that they responded in a very timely manner to any questions or changes needed by us."
Bridget Mitchell
Shopify Support & Success
Frequently Asked Questions (FAQ) - Alinga ERP Shopify Services
What is ERP integration, and how does it benefit my Shopify store?
ERP integration refers to the process of connecting your Shopify store with an Enterprise Resource Planning (ERP) system. This integration brings numerous benefits, including streamlined workflows, automated processes, accurate inventory management, and synchronised data between Shopify and your ERP system. By integrating ERP with Shopify, you can improve operational efficiency, enhance inventory control, and make data-driven decisions to drive business growth.

How does Alinga specialise in ERP integration for Shopify?
Alinga is an E-commerce agency specialising in ERP integration services for Shopify. Our team of experts has extensive knowledge and experience in integrating Shopify with ERP systems, empowering businesses to optimise their operations. We offer customised solutions tailored to your specific requirements, ensuring a seamless connection, accurate data synchronisation, and improved efficiency across your E-commerce ecosystem.

Which ERP systems does Alinga support for Shopify integration?
At Alinga, we have expertise in integrating Shopify with a wide range of popular ERP systems. Some of the ERP systems we commonly work with include NetSuite, SAP, Microsoft Dynamics, Cin7, DEAR and other ERP solutions. Our team will assess your business needs and recommend the most suitable ERP system for seamless integration with Shopify.

Will Alinga provide support and maintenance after the ERP integration is complete?
Absolutely! Alinga is committed to your long-term success. We offer ongoing support and maintenance services to ensure the smooth functioning of your Shopify-ERP integration. Our dedicated support team is available to address any queries or issues that may arise post-integration, providing timely resolutions and necessary updates to keep your system running seamlessly.
Can Alinga handle ERP integration for businesses of any size?
Yes, absolutely! Alinga caters to businesses of all sizes, ranging from small start-ups to large enterprises. Our team has the experience and knowledge to handle ERP integration projects of varying complexities. Whether you're a small business looking to streamline operations or a growing enterprise seeking scalability, we have the expertise to provide tailored ERP integration solutions for your Shopify store.

How long does it take to complete an ERP integration with Shopify?
The timeline for ERP integration with Shopify varies depending on the specific requirements of your business and the complexity of the integration. Alinga follows a systematic approach, starting with a comprehensive analysis of your needs, system configuration, data mapping, testing, and deployment. We strive to ensure efficient project management and timely delivery, providing you with a seamless Shopify-ERP integration within a reasonable timeframe.

How can I get started with Alinga ERP Shopify services?
To get started, simply contact us to schedule a consultation. Partner with Alinga and unlock the advantages of seamless Shopify-ERP integration. Maximize efficiency, streamline workflows, and unleash your business potential. Contact us today and experience the power of Alinga - where E-commerce meets ERP excellence!
Say hello and let's work together.
We would love to hear about your new project.