Case Study
nat'v – Nat'v Trims Their App Stack, Increases AOV by 8.3%
Learn how nat'v and Alinga partnered up to eliminate extra apps, improve UX, and boost AOV using personalized merchandising strategies.
Partnerships are like a good pair of undies, they offer support and boost your confidence.
No doubt, this statement holds true for eco-friendly women's underwear brand nat'v and their full-service ecommerce design and development agency Alinga. The dynamic duo has proven that great things can happen when agencies and brands work together.
You're about to learn how two partners in ecommerce fought a fearsome foe well-known to Shopify merchants everywhere. It's called App Overload.
And spoiler alert.
They emerged victorious with a streamlined app stack, a pumped-up AOV, and a uniquely customer-centric shopping experience. 🏆
Their weapon of choice? Rebuy.
But it's about the journey, isn't it? So sit back, relax, and get ready to learn how these two companies formed a seamless partnership that is saving the planet one pair of eco-friendly underwear at a time.
It's made my life easier. It's more affordable. And customers are getting a better experience once they hit the website." – Sandy Ronalds, Director & Founder of Nat'v
Challenges
App overload.
It sneaks up on you. One day you're cruising along with a few solid apps installed on your Shopify store. A month later, you're up to 14. Your shop's backend fills with lines of code, your site slows down, and you're dealing with so many random single-function apps that you just…can't anymore.
"One of my biggest problems was having to get an app to do each individual thing from a different company," says the CEO and founder of nat'v, Sandy Ronalds. "It gets so expensive."
Fixing the app overload problem was priority number one. Sandy knew that relying on too many apps was hurting her business.
Helping customers discover the right products was essential. "We had many customers come to the website and struggle to find the matching crop or brief," Sandy explains. "So being able to offer them a nicer flow and experience is top of mind."
Increasing AOV (average order value) with intelligent data-driven upsells and cross-sells was a third goal.
Sandy and team needed a solution that could deliver all three goals while meeting her specific promotional needs like bundling and GWP (gift with purchase).
With goals clearly outlined, she set about searching for an affordable all-in-one ecommerce personalization solution that offered:
Personalized upsells and cross-sells powered by AI (artificial intelligence)
A fast and fully customizable cart flyout
Bundling functionality
GWP functionality
And that's when Alinga entered the chat. 💬
"Partnering with Shopify Plus and Rebuy across multiple brands has proven to be a highly effective solution, allowing for swift delivery and impressive results. Consolidating multiple apps with Shopify Plus and Rebuy not only enhances the speed of the website but also simplifies management, streamlining the entire process." – Adrian Judd, CEO & Founder of Alinga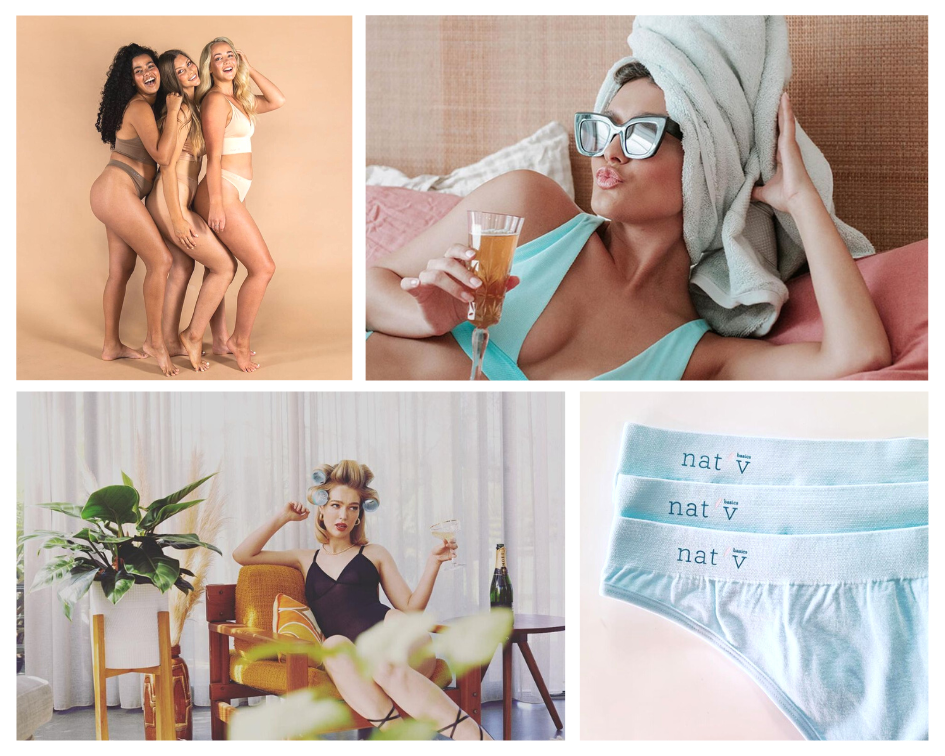 Strategy
To overcome these challenges, Sandy partnered with the highly talented and experienced team of ecommerce specialists at Alinga, led by the CEO and founder, Adrian Judd.
As in any strong partnership, trust has played a role in their success.
Sandy explains, "Alinga is in the market all the time. They've got many different clients, and they've already seen the result with their other customers." When Adrian suggested using Rebuy to consolidate the nat'v app list, Sandy gave the green light. "Rebuy came with outstanding recommendations," she says.
The first thing to do was tame the beast running wild through the nat'v online store: App Overload.
Conquering App Overload
The duo got to work auditing the shop's app stack. With Rebuy's full suite of smart merchandising solutions installed and ready to go, the partners were able to remove a total of three Shopify apps.
This approach is cost-effective, improves site speed, and makes it easier to track sales performance (and manage the shop in general).
With a slimmer app stack, the team began personalizing the shopping experience.
Enhancing the Shopping Experience with Artificial Intelligence
A big goal for nat'v was to increase AOV with personalized upsells and cross-sells. So, the Alinga team began optimizing key touch points with upsell and cross-sell widgets. Beautifully on-brand and powered with Rebuy's Intelligence Engine, these merchandising displays help maximize order values and improve the overall shopping experience.
Optimizing the PDP
The PDP (product detail page) is arguably the most important page on your website. Alinga and nat'v certainly make a case for it here.
To optimize the PDP, two powerful display widgets were added to the nat'v's product pages, and they're selling the lights out. Both widgets use a grid display style that runs across the entire page. And both display five product recommendations.
Together the two widgets on the PDP account for an eye-popping 52% of nat'v's total RGR (Rebuy-generated revenue).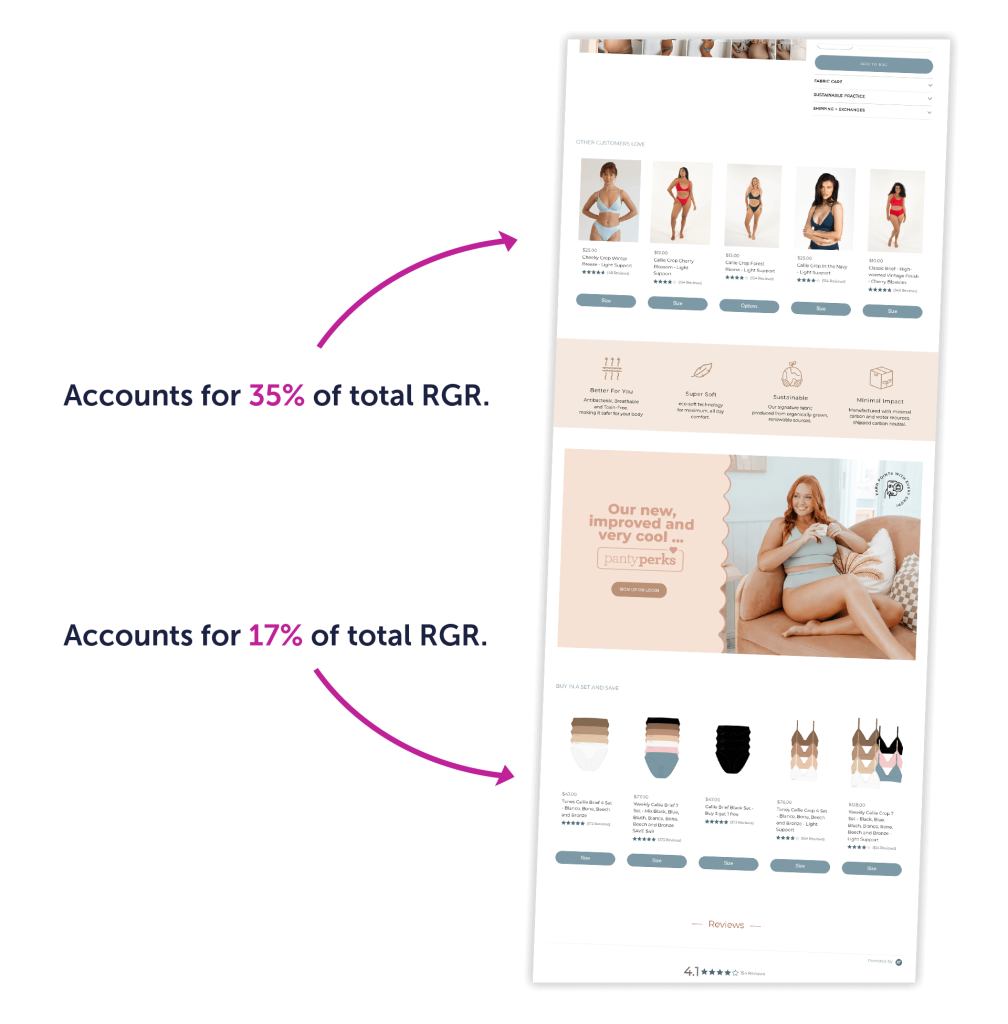 The first display widget is a data-powered cross-sell widget titled "Other Customers Love." It was placed just under the 'add to bag' button and, using Rebuy's Recommended AI endpoint, dynamically recommends similar products based on what's in the cart, historical sales data, and more.
The second one is titled "Buy it in a Set" and is also a cross-sell widget. It recommends only collections and only appears on collection pages. The ruleset for this widget was built by Alinga to dynamically recommend nat'v bundles, which they call "sets."
For example, if a customer views a PDP for a single item from the ChiChi G collection, the "Buy it in a Set" widget will display sets from the ChiChi collection. The idea is to say, "Hey, if you like this ChiChi G string, we think you'll love the full set."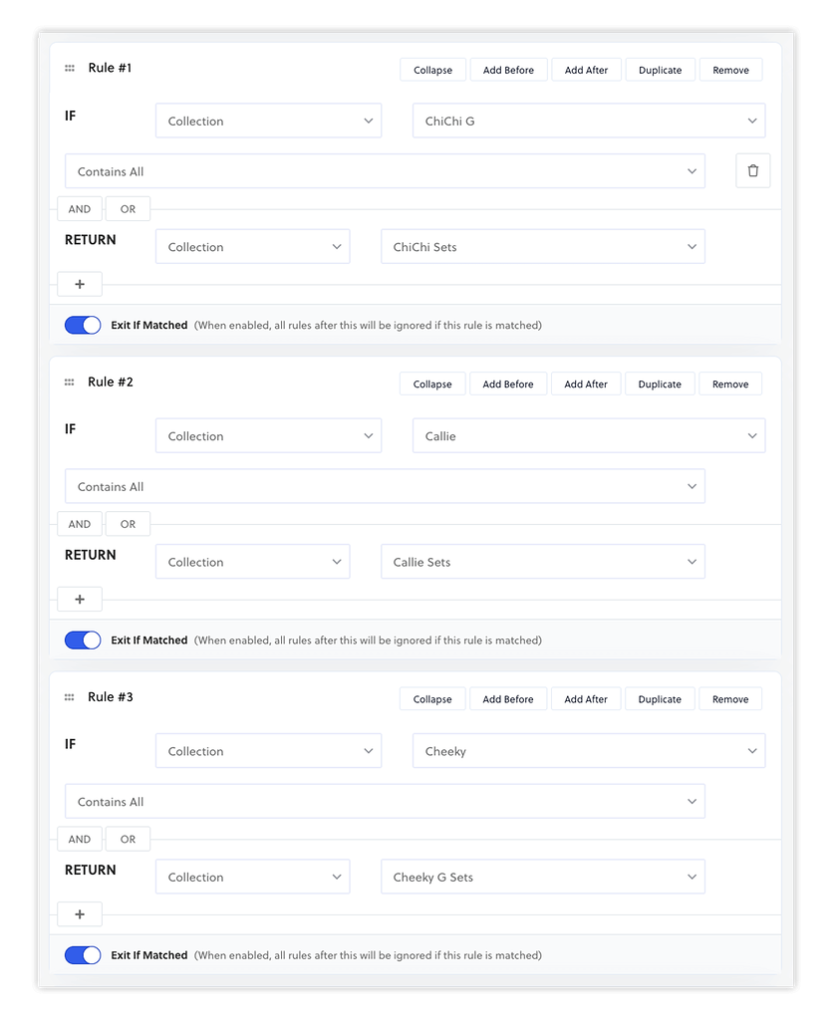 Increasing AOV with the Rebuy Smart Cart
A common pain point for ecommerce merchants is cart abandonment. So, after removing an average shopping cart app from the nat'v app stack, Adrian installed the Rebuy Smart Cart™.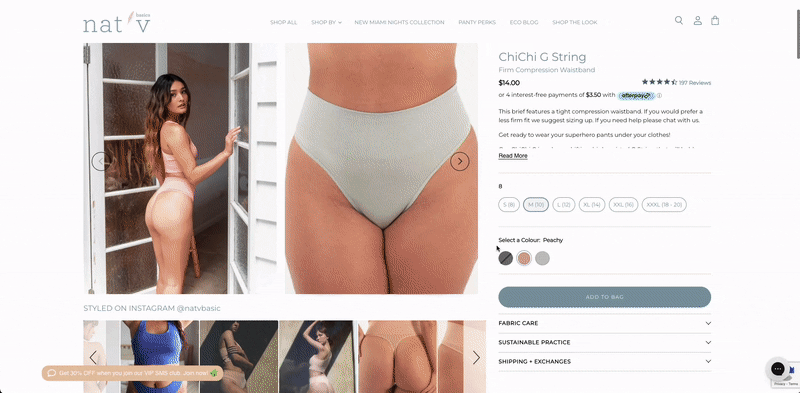 Four simple customizations were added to the versatile cart flyout, proven to supercharge your AOV and improve the cart experience.
Announcement bar
Tiered progress bar
Carbon neutral message
Afterpay payment installments
The announcement bar at the top of the cart features three rotating marketing messages. (Announcement bar messages can be added, removed, and updated to support new promotions and campaigns.)
Two tiers were added to Rebuy's new Tiered Progress Bar. The first indicates a free shipping threshold of $99. The second unlocks a GWP (gift with purchase) at $125. Both tactics are surefire ways to increase AOV.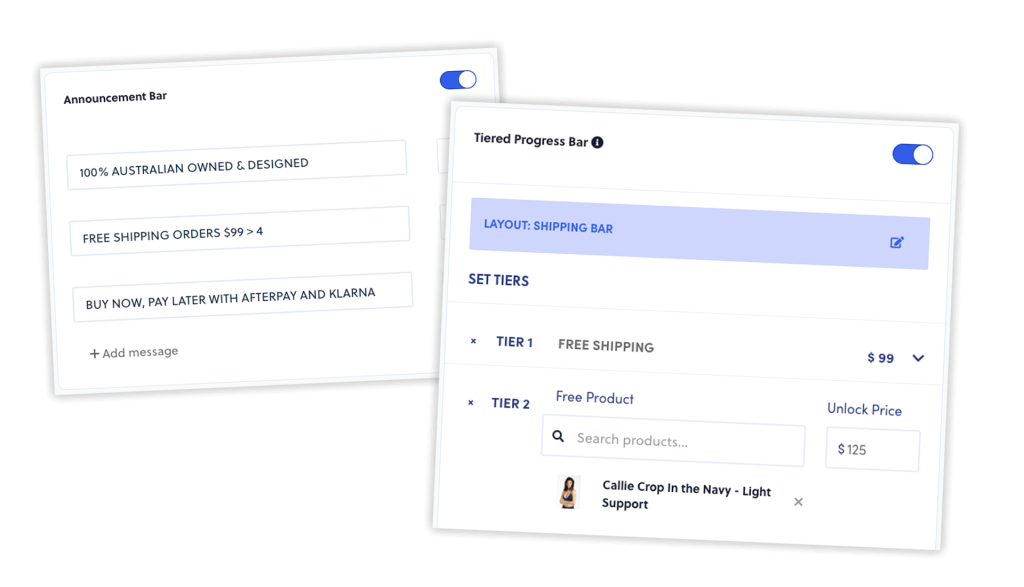 A single cross-sell widget using Rebuy's plug-and-play default recommendation logic powers every personalized product recommendation in the cart. Variant selectors were added to create a more frictionless checkout experience. Finally, Rebuy's integration for Yotpo displays social proof via star ratings for every cross-sell.
The in-cart cart cross-sell widget alone accounted for 41.8% of nat'v's total RGR.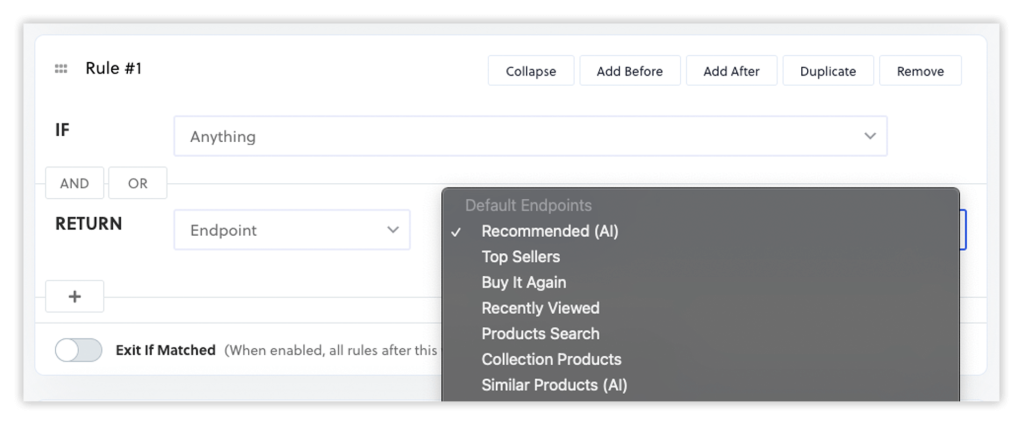 Selling More with Buy More Save More
Buy More Save More (BMSM), a feature of Smart Cart, helps merchants increase AOV by offering customers bigger discounts when they buy more of the same product. Nat'v activated BSMS to offer 3 discount tiers for a crop top promo campaign. The campaign helped customers save money on more tops and pitched in to increase AOV for nat'v.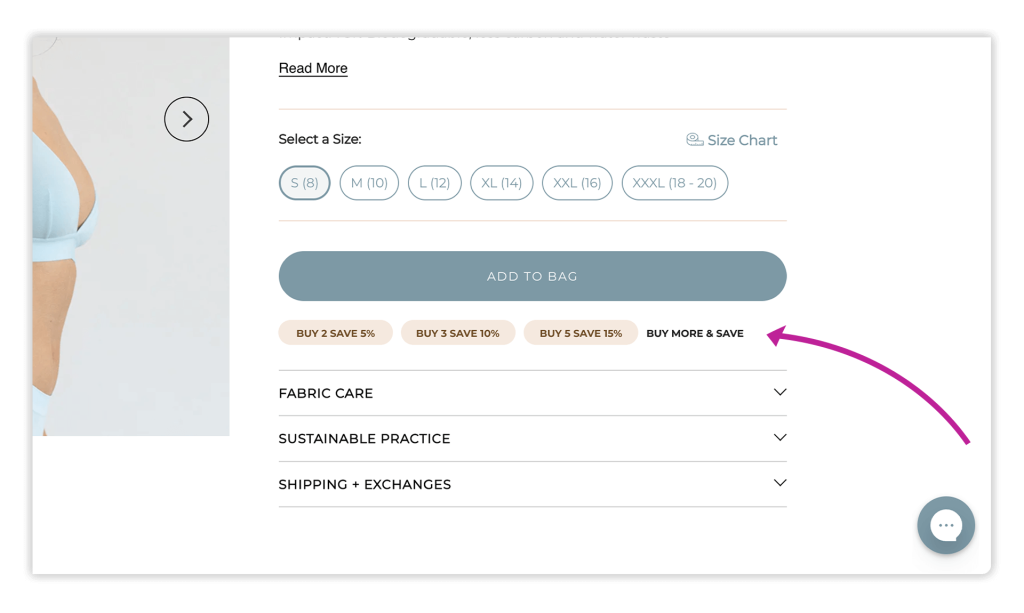 Smart Merchandising on the Shopify Checkout Page
One more widget was added to the Shopify checkout page. This widget is identical to the cart cross-sell widget except for a slight variation in the title message. The title of the in-cart widget says, "Customer who bought this item also bought." The one on the Shopify checkout page says, "Customer favourites you may like."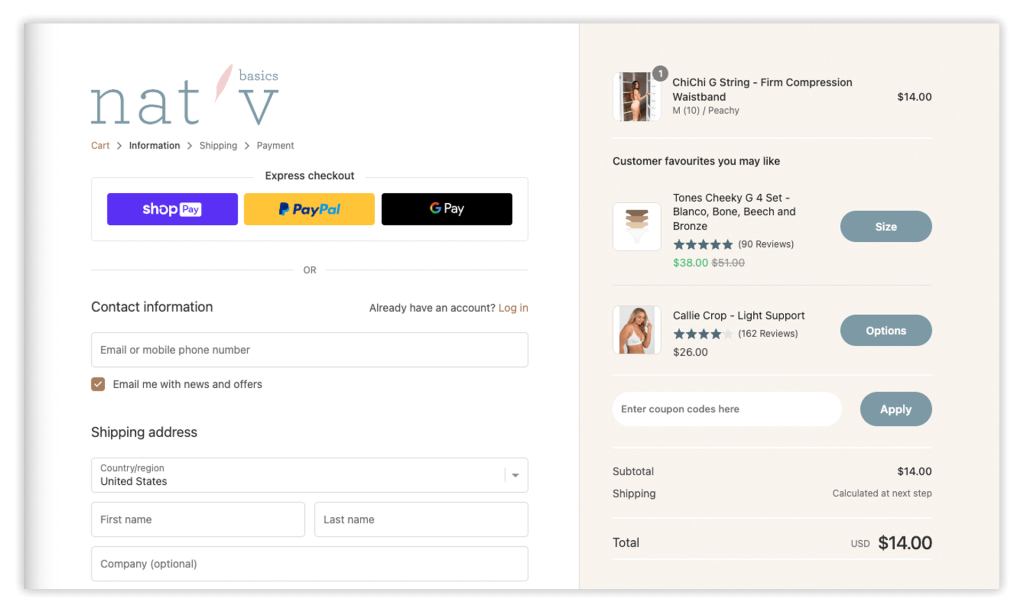 Results:
After conquering app overload with a little help from her friends, Sandy can rest easy with a streamlined app stack. She explains, "It's easier for me as the owner to know I've just got the one app that does everything."
What's more, a significant improvement to AOV confirms more customers are finding the right products at the right time. "If we can keep the customers happy, they'll come back," says Sandy. "And we can increase the lifetime value because they've had a good experience with our brand."
Using a range of powerful ecommerce personalization tools, nat'v and Alinga not only streamlined the nat'v app list but also improved their bottom line and enhanced the shopping experience for every customer. "It's made my life easier," Sandy says. "It's more affordable and customers are getting a better experience once they hit the website."
Nat'v saw AOV increase by 8.3%. In addition, 7.66% of total sales were attributed to Rebuy and 28.52% of orders contained a Rebuy add-on.
Want to see if Rebuy can meet your upsell, cross-sell, and merchandising needs? Let's chat.
To keep up with the latest trends, platform updates, and more, follow us on LinkedIn.
Visit the Nat'v online store to see Rebuy in action.