Shopify Plus is the enterprise commerce platform that's powerful, intuitive, and scalable.
It's specifically designed for those rapidly growing businesses that require more advanced features to support growth. The average Shopify Plus merchant experiences 126% growth year-over-year. Sounds great doesn't it, find out how we can help you.

Shopify Plus vs Magento
Shopify Plus, has been achieving massive growth over the past 2 years and with major brands re platforming from Magento Community and Magento Enterprise we have been very busy offering our services.  The number of migrations to Shopify Plus is staggering!

Over the past 3 years, we have worked on Shopify plus and helped growing brands leverage the full power of Shopify's enterprise eCommerce solution.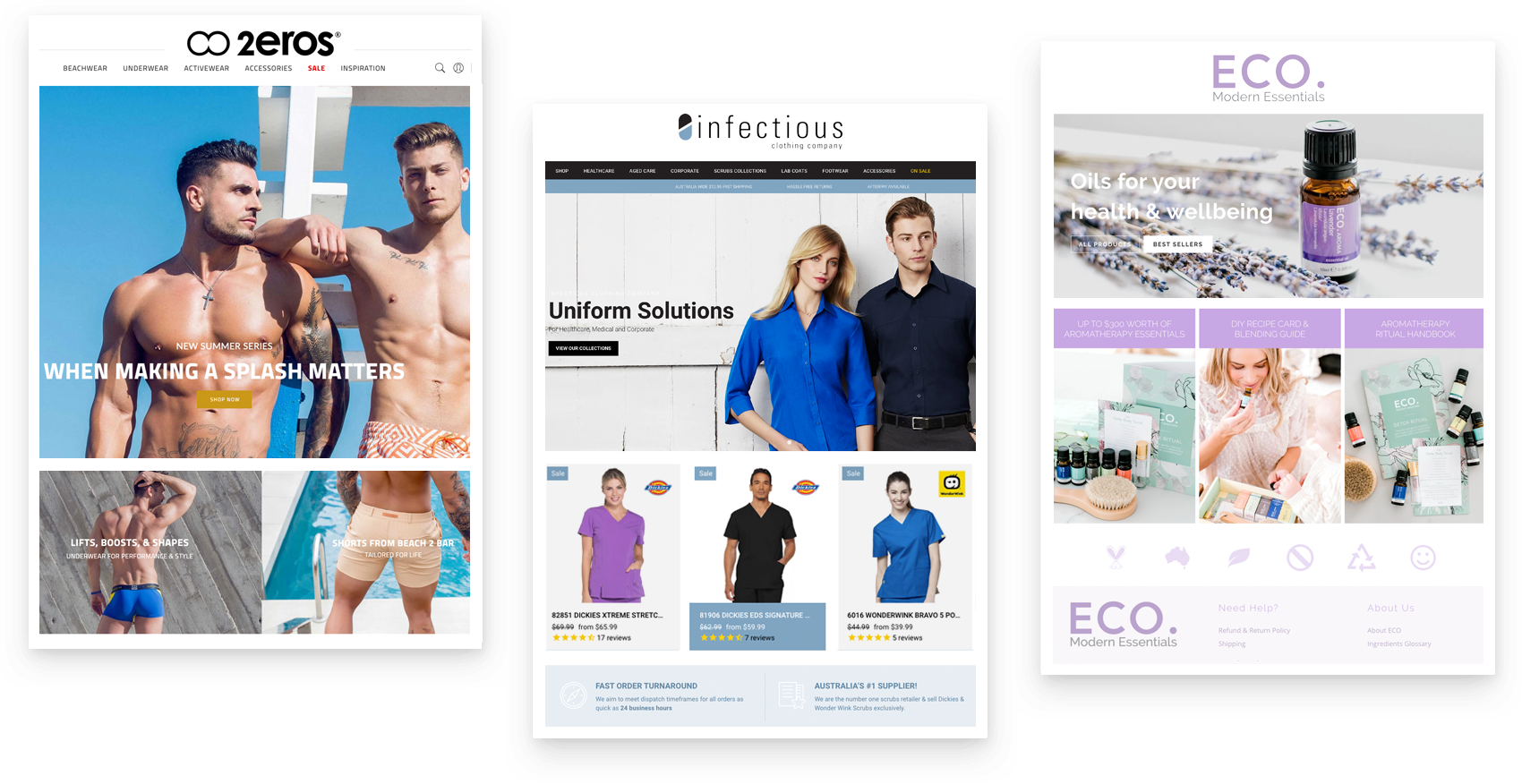 How long does an eCommerce site take to build?
Implementation for a new Magento 2 website on average takes anywhere from 90 – 160 days. It's a complex build and on that requires an array of resources, including developers, architects, deployment specialists, QA resources, etc.
Implementing an on-premise ecommerce solution looks a lot like custom application development. Building out customizations in Magento is also less efficient because you have no standard of code. You can hire a developer, but all of the code is running on your own environment. It becomes your responsibility to manage and maintain changes to the core architecture.
Load testing is mission critical for Magento customizations, so even if your customization is implemented and working just fine today, it may not perform well under peak traffic and transactions.
Shopify Plus is focused on speed. Because we remove the need to worry about ecommerce architecture, hosting, and security, deployments typically take just two to four months, depending on the level of complexity. This allows merchants to put customer needs first.
What people have said about re-platforming to Shopify plus
"When we moved from Magento to Shopify Plus, rather than taking months and months to replatform, it took weeks. "

" We've seen our maintenance hours lessen dramatically ever since the migration"

" Alinga migrated us from Magento 1 Enterprise over to Shopify in under 5 weeks"

" I wish we had switched to Shopify Plus sooner. Magento was powerfull but always required skilled engineers to keep it operational. Shopify Plus, it's so easy!"

" Thanks to Adrian and the team at Alinga for delivering our quality new website.  Adrian managed the whole process expertly and gave recommendations that will increase sales and customer experience. I would highly recommend Alinga to anyone looking to migrate from Magento to Shopify plus"