Introduction
For many, the shopping season is the most stressful time of the year and for most retailers, it's their busiest and most competitive period. This season has changed dramatically, both in terms of what people want and need, but also how people are shopping.
Many Australians have not been able to visit a store for many months, which has had a huge impact on their shopping behaviours. Marketers have had to re-think and rethink again as to what shoppers are really looking for and that agility will be important throughout this festive season more than ever. Shoppers have had to change the way they normally shop due to shutdowns and restrictions, meaning a huge focus has shifted to online.
As a result, shipping and fulfillment delays have become more common. Brands must now work to create a holiday shopping experience that caters to all the ways consumers can and want to shop – in-store or online along with click-and-collect and curbside pick-ups. We want to ensure a consistent brand experience throughout the shopping journey – regardless of the path, a shopper takes – if we want to see shoppers convert and return even post-holiday. Klarna got together with some of our key industry partners to highlight the largest pain points during this season, and to help us understand how retailers can prepare in the best possible way for this special shopping season.
We are a team of extremely talented, professional and incredibly knowledgeable e-commerce specialists that produces high converting web solutions for growing businesses. As Shopify Experts, they believe in creating beautiful, high converting e-commerce experiences and have delivered multiple B2B, B2C and multi-region stores on a variety of platforms including Shopify Plus,  BigCommerce and Magento. Their aim is to support clients achieve their business goals and be a part of that journey.
What should retailers keep in mind when preparing their owned channels such as websites, landing pages and digital marketing this shopping season?
When preparing campaigns for peak selling periods it's critical to ensure all channels are consistent in terms of messaging, look and feel and any above-the-line branding. It's best to not overcomplicate your offers when pushing out messages across multiple verticals, ensuring the message is pushed out consistently. Messages and promotions may have to be massaged slightly for different channels. Instagram will be more visual with a short sharp message to capture attention, while Facebook and corresponding landing pages have the functionality to include more copy including T&Cs. It's important to back up your messaging and your offers on your website and check out pages.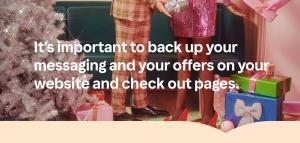 Remember the vast majority of your customers will be browsing via mobile so ensure all campaigns and creatives are optimized for mobile, and what products or pages are more popular on mobile.
It's also vital to keep in mind supply chains and timing with your campaign in the lead-up to the selling season. COVID-19 has changed the online shopping world forever in terms of demand and supply so ensure all campaigns are backed up by the organization's ability to actually deliver on the goods.
How do you use the rest of the year to test and learn new strategies and technologies to deploy for the busiest shopping days?
Now is the time to get ready and start creating all the collateral. We've had great success using Launched on Shopify Plus for switching between custom sale themes and scripts throughout. Scripts are a great tool for retailers to be able to modify the user's individual cart and the checkout experience. It is great to test this type of customization in the lead-up to your bigger selling periods to maximize the effectiveness of such tools and add ons in peak selling periods.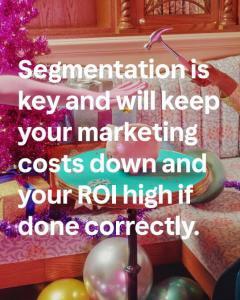 Not only is it essential to test different technical tools, but testing different creatives is also essential throughout the year in lead up to sale periods. Tweaking and testing creative and different messaging is also key to maximizing results. Using different graphics and colour palettes throughout your communications and making a call to action stand out in a different way can often make a huge difference in a shopper's likelihood to purchase. Playing with graphics, GIFs, and video are all key ways to help your message stand out and refine the pathway to purchase prior to big selling periods.
Testing audiences and personalisation are also imperative. Segmentation is key and will keep your marketing costs down and your ROI high if done correctly. Use the lead up to drill down on your audience and play with personalisation and different targeting mechanisms.
It's also important to trial any special offers either to closed user groups or trial groups to gauge trigger points and likelihood to purchase patterns. There's nothing worse than having done all the hard work with your back-end and creativity and then have an offer that may not be enticing enough or resonate with your target audience.