Boutique first took hold as a passion for the love of dressing up, fashion and materials as a child growing up in a small village near Tamworth. I always enjoyed dressing nicely from a very early age but as I matured, I learnt I had a natural gift for knowing what works on different women's shape and size. Matching colours, styles and enhancing with accessories has been something that I always took pride in. Growing up with two sisters many hours were spent in front of the mirror with many changes in the lead up to a local racing event or night out. I still spend many hours in front of a mirror mixing and matching testing colour and clothing combinations.
I met my husband in the Northern Territory. He was a Cattle Station Manager and I was working with Aboriginal communities near Alice Springs; the colours and topography was like nothing I had ever seen before. Native wild flowers and raw earthy colours have stuck with me ever since. We lived on and Managed Cattle Stations for another 10 years after meeting, across Northern Territory and Western Australia. One thing that was common in the far North and remote areas was the effort and excitement that us women experienced when an opportunity to dress up arose. We could be in 40-degree heat, with the wind blowing and the dust in our eyes but we would still put our makeup on and dress up in our best outfit to attend a get-together.
Pursuing my interest in ladies' fashion, I completed a Professional Styling course which led me to many other beautiful countries and a deeper understand of style, trends and the female figure.
Clothes that visually enhance all figures, are practical for any occasion and comfortable to wear are items you will see in our range. Sass Boutique also likes to capture a visual edge that makes you stand out with enough class some say ooze confidence. My time spent in the hot desert landscapes and far Northern tropics have also given me a great respect for the gorgeous natural linen, cotton fibres and how they can be worn throughout the change of seasons effortlessly.
I hope my range gives you as much fun to browse and wear as I have had putting it together, embrace your femininity and let the clothing bring you great memories.Let Sass Boutique help you find clothes that will gracefully help you stand out in any crowd.
We would like to thank the lovely Jessie for the beautiful photo's of our store @jessdeanphotography and the gorgeous Sasha Jean Vandenboogaard who is a stunning local model and has been a wonderful help getting the Sass name out there !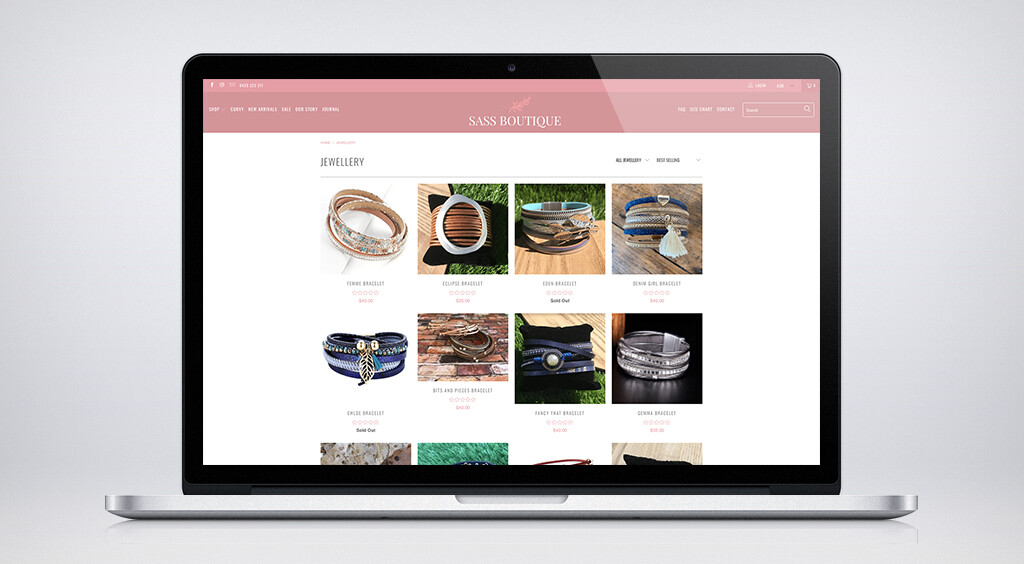 Our Inbound Shopify Services
eCommerce consultancy and strategy

Shopify migrations

Custom design

Shopify store setups

Shopify custom development

Digital marketing

Shopify support

Shopify training

15+ years of web & eCommerce experience

Our Shopify experts are well-versed with the technology and develops a clean, elegant and user friendly fashion website which is responsive to ensure it is compatible with all the mobile devices.
We expertise in custom Theme Design and Development.We believe in quick turnaround time.
We provide the best e-commerce solution and support with the best Shopify Developers
Alinga web design providing the best e-commerce solution with some of the Northern NSW Fashion Boutique – Sass Boutique. The experts are trained to work as per the company norms and bring the best solution to the table.
CONTACT ALINGA TODAY
0418693764
sales@alinga.com.au